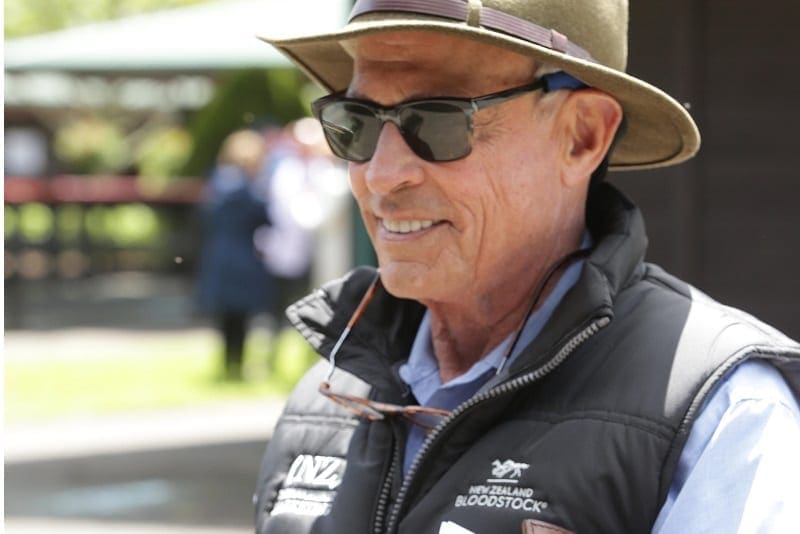 American horseman Kip Elser has recorded a great result in his first foray into the New Zealand thoroughbred scene.
Elser, who operates Kirkwood Stables in South Carolina in the United States, purchased two yearlings earlier this year and made a profitable return when offering them at New Zealand Bloodstock's Ready to Run Sale at Karaka this week.
Elser's wife, Helen, was intent on coming to New Zealand to further their global operation, and they did so this year after testing the Australian market.
"My wife and I were looking for something new to do and two years ago she came here (to New Zealand) and I went to Australia," he said.
"She wanted to come here right from the start and I decided to go to Australia, mostly because I had a partner and old friend over there, Murray Johnson, to work with.
"The Australian experiment did not work, the market is just not there for us, and a year later we did what my wife suggested."
Elser raised some money for his New Zealand venture and teamed up with local horsemen Sam Beatson and Eion Kemp to select his pinhooks.
"With Joe Miller from home, who is the NZB representative in the US, we put together a little group to buy a couple here," Elser said. "We bought one with Sam (Beatson) and bought another with Eion (Kemp) and they both did a great job."
Beatson offered a Tavistock colt in his Riversley draft that sold for $400,000 to bloodstock agent John Foote, while Kemp prepared a Smart Missile gelding under his Kilgravin Lodge banner which fetched $90,000 when sold to Alrashid Group from Malaysia.
It was a solid first-outing in New Zealand for Elser after pinhooking the Tavistock colt out of New Zealand Bloodstock's Yearling Sale this year for $150,000, while he purchased the Smart Missile gelding from Australia for A$30,000.
Elser, who has pinhooked thoroughbreds all around the world, said there wasn't a huge contrast when it came to selecting yearlings in New Zealand.
"I just love going to different places and doing it (pinhooking)," he said. "We have done it in Europe, South Africa, we tried Australia and now we are here. A racehorse will take you anywhere in the world you will let him.
"I'm not sure if there is a tremendous difference in the style of horse (in New Zealand). The main difference over here is that most of them breeze in pairs and there is a lot of time between the breeze and the sale."
Kelser said that while he was not familiar with local sires such as Tavistock, he looked at statistics to get a gauge on the trends in the local market and worked with local horsemen such as Beatson and Kemp in the selection process.
"You just look at the sire tables and try to get something by a well-established older horse or a bright star of the future just starting out," he said.
"We all went out and looked at horses and then came back and compared lists. Any horses that were on both lists we went back and appraised."
Elser said the majority of his business at Kirkwood Stables comes from pinhooking yearlings to sell as two-year-olds and he will look to continue his New Zealand venture at next year's sales. However, business will mean only his wife Helen will be able to enjoy an extended stay next January.
"Nearly half of our business is buying yearlings and getting them ready for two-year-old sales and about 40 percent of it is pre-training and the rest is buying for clients, be it at yearling sales or two-year-old sales," he said.
"Helen is going to stay for a while after the sale in January, but I'm going to head right back because we will have sales coming up."