Courtesy of the BloodHorse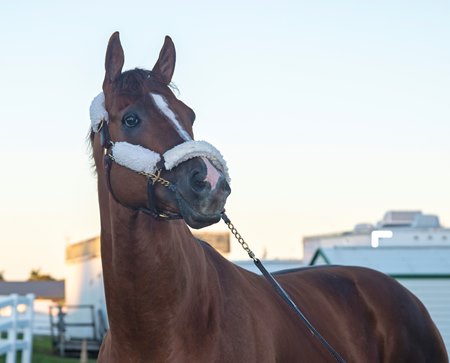 The Gulfstream Park back side was crowded with vans during the early morning hours Jan. 26 as horses shipped out of the South Florida base following the Pegasus World Cup Invitational Stakes Presented by Runhappy (G1).
Mucho Gusto, who won the Jan. 25 race by 4 1/2  lengths for Hall of Fame trainer Bob Baffert and Prince Faisal Bin Khaled, looked well loading into the trailer bound for California.
"He was training well, and I was trying not to get too excited about him because he always came up a little short in the big races this last year," Baffert said. "The freshening really helped him. He needed to run the best race of his life, and he basically ran the same race as he did in the Haskell (Invitational Stakes, G1). He ran his heart out."
Baffert, who did not make the cross-country trip to Florida, said all reports regarding Mucho Gusto were positive Sunday morning and that the Mucho Macho Man  colt would likely ship to Saudi Arabia along with Whitney Stakes (G1) winner McKinzie for the $20 million Saudi Cup Feb. 29. The ban on medication, part of the new structure of the fourth annual Pegasus World Cup, had little effect on Mucho Gusto, Baffert said.
"We scoped him to make sure he didn't bleed, so that was a positive," Baffert said. "He's never shown any signs of bleeding. The Saudi Cup will be next. They bought him to run in the Saudi Cup, and we got word today he was invited. Both he and McKinzie will run.
"Ever since they announced the Saudi Cup, people from the Middle East have been trying to buy horses for the race. They kept pestering me, and I told them if they came back with a big, ridiculous offer, they'd sell him, and that's what they did. They're looking good now. Who would know the race would fall apart like it did?"
Hronis Racing's last-place finisher, Higher Power, who is also based in California with trainer John Sadler, shipped out early Sunday morning with Mr Freeze. Sadler's foreman, who accompanied the son of Medaglia d'Oro  onto the trailer, said the horse looked good despite Saturday's finish.
The next start for Jim Bakke and Gerald Isbister's Mr Freeze—the Pegasus World Cup runner-up—is still up in the a
"He came out great, and he looks really good this morning," said trainer Dale Romans, who has no target in mind for the son of To Honor and Serve.
"I've no idea yet," Romans said. "I'll have to think it over."
Fourth-place runner Diamond Oops, campaigned by Diamond 100 Racing Club, Amy Dunne, D P Racing, and Patrick Biancone Racing, also returned from his Pegasus effort to the delight of his connections.
"He came back awesome and was sound and happy this morning," said Andie Biancone, daughter of trainer Patrick Biancone. "We're super proud of his effort, and he'll probably return to sprinting in the future, but he did his best and we're super proud of him."
Biancone said a next race has not been selected for the Mr. Prospector Stakes (G3) winner.
"We're going to just let him tell us when he's ready," Biancone said. "He was fresh walking around the shed row this morning, so it's a good sign. I think when the horses from Palm Meadows shipped in 72 hours ahead of time, they weren't used to that. They normally come in 24 hours before, so it was really different for them. He's not tired, but I'm definitely tir