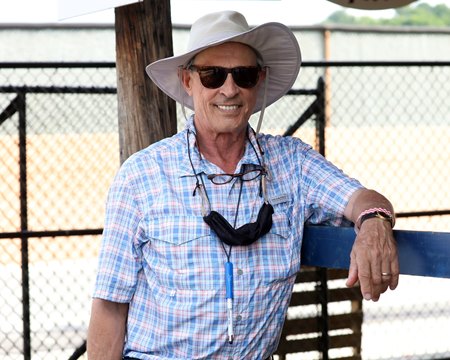 South Carolina-based pinhooker looking forward to his first auction of 2020.
South Carolina-based horseman Kip Elser is looking forward to finally having the opportunity to offer horses to the public at the Fasig-Tipton Midlantic 2-Year-Olds in Training Sale that gets underway June 29 at the Maryland State Fairgrounds in Timonium.
Elser, who operates the Kirkwood Stables sales and training entity, has yet to send any of his juveniles to auction during a sales season disrupted by the COVID-19 pandemic.
Kirkwood's business model evolves around buying a select group of yearlings to be sold the following year at The Gulfstream Sale, Fasig-Tipton's selected 2-year-olds in training sale at Gulfstream Park, and the Midlantic sale.
The April 1 Gulfstream sale was canceled this year, and the Midlantic sale originally scheduled for mid-May was pushed back on the calendar in an unprecedented year.
As a result, the Kirkwood offerings at Midlantic consist of a mix of horses that were originally targeted for the sale and those that were meant to sell in April.
"Eight of them were slated for the Gulfstream sale, and we had quite a few late developers and some eligible for state-bred programs that were always pointed to this sale," he said. "With the addition of the Gulfstream sale horses, this is about double the size of what we normally have."
Elser believes it would have been unsafe to try to conduct the Midlantic sale any earlier and that Fasig-Tipton is making all the right moves by providing a clean and safe environment for the auction, as well as setting up mechanisms for buyers to place bids via phone or through its newly established online portal. In addition, Fasig-Tipton has implemented various online means for which buyers and their agents can view videos and repository information of the horses cataloged.
"The company has made a huge effort," Elser said. "They are working more with phone and online bidding, and we're doing more with video and other forms of communications. It's a different world."
Though he has some concerns about what the market will look like, Elser believes the extra time has been beneficial, along with other positive factors such as the reliability of the Timonium track and the location of the fairgrounds to a critical mass of trainers.
"I'm worried about who wants to buy horses in this situation," Elser said. "I think there are a lot of positives here. It's a safe dirt surface. There are more tracks open now than there were two weeks ago. There are quite a few horsemen who can make a day trip coming here to look at horses, bid on horses, and do their work without having to fly here or stay in a hotel."
Elser said the March and June sales conducted by Ocala Breeders' Sales could provide a window into what might happen this week.
"The top of the market has shown to be relatively stable in the other sales, and I think we're going to see a little firming of the middle market," he said.
While the Kirkwood horses scheduled to sell at Gulfstream would have just galloped in their presale workouts had the South Florida sale taken place, the horses are farther along in their development now and had timed workouts of a quarter-mile during the under tack show that preceded the Midlantic Sale.
"It's a natural progression," Elser said of the horses' progress to date and potential for improvement. "They all worked great. We're hoping these last three days weren't their best days. This is not the high point in their careers."
One Kirkwood horse that should attract a lot of attention is Hip 52, a Tapit  colt that is a full brother to three stakes-placed runners, including grade 3-placed Taxable, and a half brother to another stakes-placed horse.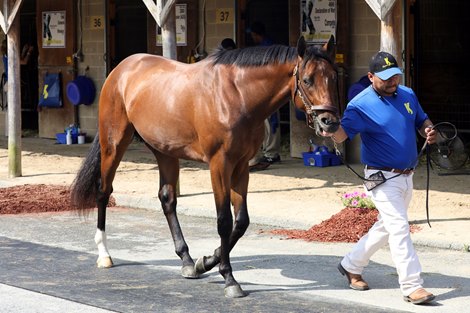 "He is at the top of the group anywhere he goes," Elser said of the colt bred in Kentucky by Winchell Thoroughbreds that breezed a quarter-mile in :22 during the under tack show.
"He had a tremendous gallop out, which is what you expect from a horse like that," Elser said.
The colt, produced from the winning Giant's Causeway mare Jackpot Joanie, a half sister to 2005 Kentucky Oaks (G1) winner Summerly, was originally purchased for $200,000 from Gainesway last year at Fasig-Tipton's Kentucky October Yearlings Sale.
Kirkwood said his consignment is filly-heavy, with two in particular that should stand out.
Hip 451 is a daughter of Triple Crown winner American Pharoah  produced from the Any Given Saturday mare Choice Pearl, a half sister to grade 1 winner Awesome Humor and to the dam of grade 1 winner Emcee and group 2 winner Surfer. The filly bred in New York by Pine Ridge Stables was acquired from Paramount Sales for $75,000 at the Fasig-Tipton yearling sale in October.
The other exciting filly prospect for Kirkwood is Hip 168, a daughter of Hard Spun  bought from Lane's End, agent, for $40,000 at last year's Keeneland September Yearling Sale. The filly bred in Kentucky by G. Watts Humphrey Jr., Susan Keller, Victoria Oliver, and G. Watts Humphrey III is from the immediate female family of multiple grade 1 winner Clear Mandate, the dam of grade 1 winner and sire Strong Mandate  and grade 3 winner Newfoundland. Her third dam is grade 1 winner Dream Deal, who is a half sister to Belmont Stakes (G1) winner Creme Fraiche.