Courtesy of the Blood Horse
COAL FRONT was a $575,000 OBS Sales grad for Kirkwood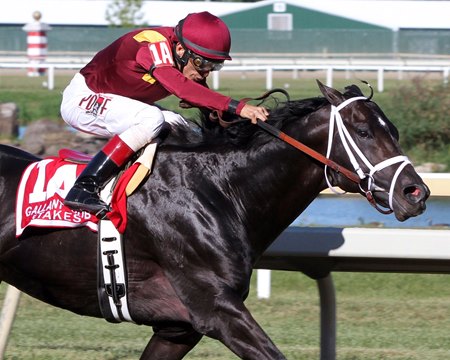 The connections and fans of Coal Front experienced the sport's highs and lows this weekend.
Robert LaPenta and Head of Plains Partners' Coal Front scored a front-end victory in the $300,000 Gallant Bob Stakes (G3) Sept. 23 at Parx Racing, an effort that saw the 3-year-old sprinter earn the week's top Equibase Speed Figure of 118.
But after the race trainer Todd Pletcher announced that the Stay Thirsty  colt had suffered a condylar fracture in his right front. The connections are optimistic Coal Front can come back from the injury.
As for the race, Coal Front and jockey John Velazquez powered through a quarter-mile in :22.51 and half-mile in :45.21 then completed the final two furlongs in :23.73. In the stretch, Coal Front resisted a challenge from American Pastime, who pulled to within a head of the lead in midstretch. American Pastime would finish a half-length back in second, earning the week's second-fastest ESF, 117.
Coal Front improves to four wins in five starts and secured his second graded stakes win. He has earned triple-digit ESFs in all of his races and the 118 is a career best.
In his career debut Coal Front registered a 106 in winning a six-furlong maiden race in April at Keeneland. In his third start and stakes debut, he was awarded a 111 for his front-running victory in the 6 1/2-furlong Amsterdam Stakes (G2) July 29 at Saratoga Race Course.
Top 10 Equibase Speed Figures Since Sep. 19
ESF
Horse
Race, Track, Distance, Date
Finish
118
Coal Front
Gallant Bob S. (G3), PRX, 6f, 9/23
1
117
American Pastime
Gallant Bob S. (G3), PRX, 6f, 9/23
2
116
Mesoma
AOC, CD, 6.5f, 9/24
1
115
West Coast
Pennsylvania Derby (G1), PRX, 9f, 9/23
1
114
Manitoulin
AOC, BEL, 10fT, 9/20
1
114
Sharp Azteca
Kelso H. (G2), BEL, 8f, 9/23
1
113
Hey Jabber Jaw
AOC, BEL, 6f, 9/21
1
112
Ostrolenka
AOC, BEL, 6f, 9/21
2
111
Iron Fist
Governor's Cup S., RP, 9f, 9/24
1
111
Mike Man's Gold
STR, EMD, 6f, 9/23
1
111
Red Rifle
AOC, BEL, 10fT, 9/20
2
111
Angry Moon
AOC, BEL, 6f, 9/21
3