Courtesy of the BloodHorse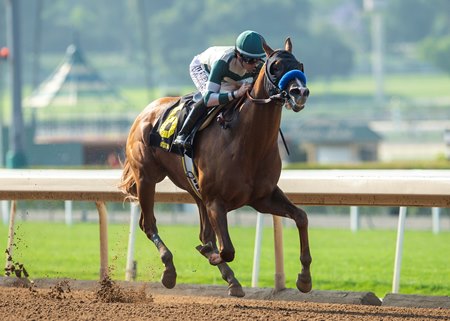 Owner bought Mucho Gusto out of Fasig-Tipton Midlantic sale.
Michael Lund Petersen is game when it comes to buying horses at
Mucho Gusto Another Sale Find for Owner Petersen
Owner bought Mucho Gusto out of Fasig-Tipton Midlantic sale.
By Ron Mitchell Yesterday, 2:44 PM
Sponsored By
Michael Lund Petersen is game when it comes to buying horses at public auction, as evidenced by the record $1.8 million he paid for an Into Mischief filly at this year's Fasig-Tipton Midlantic 2-Year-Olds in Training Sale.
At that same sale a year ago, Petersen stepped up to acquire a colt from the first crop of Breeders' Cup Classic (G1) winner Mucho Macho Man for $625,000, a move that looks most fortuitous now that the colt, named Mucho Gusto, is the 2-1 morning-line second choice for the July 20 TVG.com Haskell Invitational Stakes (G1).
Kentucky Downs
Trained by Hall of Famer Bob Baffert, Mucho Gusto has won or placed in all seven starts for earnings of $430,800. The colt's five wins include four grade 3 stakes, and he comes into Monmouth Park's premier race off back-to-back victories in the Lazaro Barrera Stakes (G3) and Affirmed Stakes (G3), both at Santa Anita Park.
"Michael Lund is a player," said Kentucky-based agent Donato Lanni, who selects sale horses, including Mucho Gusto, on behalf of Baffert and his owners, as well as other clients. "He loves the game, he loves horses, and he is an old-school player. He takes his lumps and moves on."
Among the additional graded winners raced by Petersen was Baffert-trained Mor Spirit , a multiple grade 1 winner earner of nearly $1.7 million selected by Lanni and purchased by Petersen and Bernard Schiappa for $650,000 as a 2-year-old.
Mucho Gusto was consigned to the Midlantic sale by Kip Elser's Kirkwood Stables, which also offered the colt at the Ocala Breeders' Sales March 2-Year-Olds in Training Sale, where he was bought back on a final bid of $55,000.
At Midlantic, the colt worked the fastest quarter-mile time in :21 1/5 over the dirt track at the Maryland State Fairgrounds near Timonium, where the sale is conducted. Prior to the OBS sale, the colt's eighth-mile breeze in :10 on the Safetrack artificial surface was co-second-fastest during the under tack show.
Elser said the colt matured between the sales but was surprised he did not attract more buyer attention at OBS.
Safe Bet
"They didn't even look at him at the first sale," Elser said. "I was mystified when they didn't buy him the first time. I can't tell you he would have brought all that money the first time, but I certainly thought he would bring more than we bought him back for. I was a little puzzled the first time (RNA) and pleasantly surprised the second ($625,000)."
Lanni said there were considerable differences in Mucho Gusto's two sale workouts.
"I went back and looked at his OBS workout video, and he moved so differently on dirt than he did on synthetic," Lanni said, adding it is not a negative reflection on synthetic surfaces but merely his observation of how Mucho Gusto handled the two surfaces. "I think it probably had a lot to do with the way he looked."
Lanni said he observed Mucho Gusto some 10 times—a typical number of looks for prospective athletes he is interested in at 2-year-old sales—and was impressed with the colt's demeanor.
"He was a horse that was obvious, which is why he brought what he did," Lanni said. "He worked well, came back well, cooled out well, and vetted well. He kept his weight and kept his mind. He just did everything right. He got better and better. I knew he was going to be that kind of horse if he just stayed healthy."
The fact the colt was from the first crop of Mucho Macho Man did not play into the decision on whether to buy Mucho Gusto because the focus was on the colt's mental and physical attributes, the agent said.
Haskell Invitational
"Mucho Macho Man was the unknown factor," Lanni said. "We try to focus on the individual and his performance. We base it more on performance than anything else because you get to see them move on the track, and that is more of a key indicator than other factors. He was just a horse that did everything right. He jumped through every hoop."
Lanni said Mucho Gusto has lived up to expectations so far, and he believes he has the talent to be competitive in the Haskell.
"You hope when you buy one that they are the real deal and they perform well and stay sound," Lanni said. "He's a very quiet and unassuming horse. He just tries. I think Bob has managed him so well. He's learned to put it all together and figure out what he's doing. He has a lot of speed and is very tactical."
Produced from the winning Giant's Causeway mare Itsagiantcauseway, the colt is from the extended female family of Canadian Horse of the Year and sire Peaks and Valleys and multiple grade 2 winner Alternation . He was bred in Kentucky by Teneri Farm and Bernardo Alvarez Calderon.
The Midlantic sale marked the fourth time Mucho Gusto has gone through a sale ring.
As a "short yearling" consigned by Shawhan Place to the 2017 Keeneland January Horses of All Ages Sale, the colt was purchased by Kelly Lively for $14,000. Sent to the Keeneland September Yearling Sale as part of the Select Sales consignment, he was sold to S.R. Schwartz for $95,000.