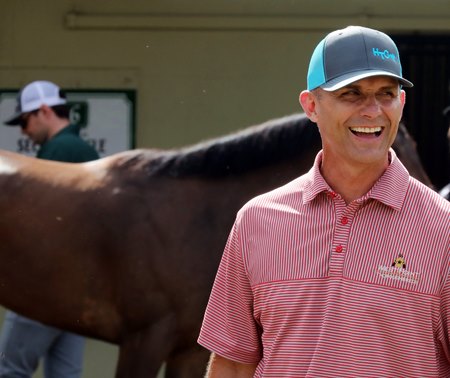 Diverse Panel Voices Horse Racing Integrity Act Support
Respected panel presented at Kentucky Thoroughbred Farm Managers Club meeting.
Courtesy of the BllodHorse
By Christine Oser
Saying horse racing is at a tipping point in terms of public acceptance, panelists at the April 2 Kentucky Thoroughbred Farm Managers Club meeting voiced support for the 2019 Horse Racing Integrity Act (H.R. 1754) as a way to move the industry forward.
A full house of both industry veterans and young blood packed into Copper Roux in Lexington, Ky., as a diverse panel of five discussed the importance of recognizing the general public's perception and where the sport goes from here.
Fasig-Tipton president and CEO Boyd Browning, Kirkwood Stables owner Kip Elser, Rood & Riddle Equine Hospital surgeon Dr. Larry Bramlage, Blackwood Stables co-owner Matt Hogan, and West Point Thoroughbreds president and CEO Terry Finley all expressed concern for the future of racing and the belief that the Horse Racing Integrity Act could help move the sport in a positive direction. The bill—sponsored by Rep. Andy Barr, a Kentucky Republican, and Rep. Paul Tonko, a New York Democrat—would establish an independent non-profit to develop and administer national anti-doping and medication rules, as well as develop testing and laboratory standards.
Medication rules currently fall under the jurisdiction of each of the more than 30 states that allow horse racing.
In beginning the Horse Racing Integrity Act conversation, KTFMC president Carl McEntee noted perception is reality.
"It doesn't matter whatever side of the fence you guys sit on, whether you're pro or anti any form of drug that we use in this industry," he said. "The simple fact is that the perception from those not involved in the Thoroughbred industry is poor. They think we beat our horses, we feed them full of drugs, and then we kill them in the end. It's horrible to say that, but that is the perception."
Bramlage suggested horse racing take a page from the NFL on how to handle a public relations crisis by making significant rule changes. When the NFL was faced with players suffering concussions and dealing with side effects of depression, suicide, and entering hospice prematurely, the organization changed the game.
"Now you can't hit somebody with your face mask like I learned when I was a kid playing football. I really liked football," Bramlage said. "They are the example of how you take what could be a crippling issue—the idea that every kid who plays football is going to end up with a mental disease because they're hitting their head over and over—to eliminating how they hit their head."
Bramlage noted he has changed his mind on federal legislation in horse racing, saying he first hated the idea of Congress becoming involved. Now, he believes there needs to be a bill in place that pressures the industry to make positive changes that improve the industry. He said a united industry voice needs to speak for the bill so it doesn't stall in Congress with divided industry opinions.
"If you read it closely, the government is not taking over our industry unless we screw up," he said. "They have supervisory capability, but if we do a good job, there's no reason to step in. There's no cost to it."
Browning used the experience of shopping at Whole Foods as an example of how the public's perception on animal treatment has changed. Consumers now want organic products and to ensure their food was handled ethically.
"I think we're delusional with many respects within our industry," he said. "We sit here and argue within our industry about what's right and wrong, and we don't know what the hell the general public's perception of us is."
He added both track attendance and handle, when adjusted for inflation, are shrinking.
"We're ignoring the root issues the public cares about," he said.
The point was made that the racing industry is capable of working together to make a change. Multiple sales companies put their foot down with off-label use of bisphosphonates, which Bramlage said can disrupt the remodeling process in horses under 4.
"I think it's wonderful how the industry came together so quickly and has regulated and banned bisphosphonates when they have shown to be dangerous," Esler said. "Here's a drug that had legitimate uses when it was first developed. It was prescribed for several years. The side effects and the misuse were discovered, and the industry got together and said, 'No more.' I think that is a great example of what this industry can do when our backs are to the wall."
However, Esler also noted what the industry has yet to agree upon.
"The dragon in the room is Lasix," Esler said of the diuretic used to prevent or reduce the severity of exercise-induced pulmonary hemorrhage. "It is the most divisive issue in the whole industry."
Finley's solution to move forward with split opinions, such as Lasix, was to take those issues off the table and have a group of key stakeholders sit down and figure out what they can agree on to better the horse racing industry. He said New York Thoroughbred Horsemen's Association president Joe Appelbaum could be a driving force.
Finley also pointed out it would only take 600,000 signatures for a horse racing ban to be placed on the ballot in California. The issue already has made national news and caught the attention of Sen. Dianne Feinstein, a California Democrat. Feinstein wrote a letter April 2 to the California Horse Racing Board calling for the suspension of racing in the state until the 23 equine deaths at Santa Anita Park since its Dec. 26 opening day are investigated.
"Certainly, this is an opportunity," Finley said. "I think five years from now, we'll look back and we'll see we either took advantage of an opportunity, albeit a very turbulent period in our industry—I might say the toughest period in our industry in a long time, if ever—or we'll look back in five years and say we squandered an opportunity."
Hogan made sure to note that those who work in the industry do so because they love the animals. He encouraged the audience to speak with legislators to make major changes in the horse racing industry.
"You work night and day. Even if you're at a point in your life where you're not having to work night and day, but you did to get where you are in this business," Hogan said. "It's blood, sweat, and tears all the way in this game. You do it because you love the animals.
"It's kind of disheartening to see all this stuff in the media now. Every media channel, social media, newspapers across the country, national news."
Hogan added that if nothing is done to improve the current state of horse racing, the effects could be immediate.
"I'm worried about right now," he said. "I'm not worried about whether my kids are going to take to any of this stuff going forward. I'm worried about what I'm going to do."
Bramlage put it bluntly, in terms of the current environment.
"Dead horses and drugs will never be acceptable."